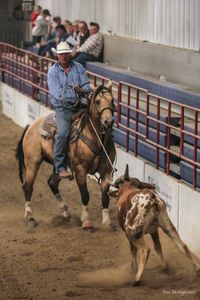 2009
Mr Twisty Chex is a solid, stunning 2009 AQHA Buckskin Stallion. Shown in the Roping Futurities, Mr Twisty Chex has proven himself both as a Working Rope horse and as a sire. He throws good bone, athleticism, soundness, and a trainable mind to his offspring. As a bonus this guy like to throw lots of colour!
Mr Twisty Chex has exceptional conformation. Stand this horse up and everything fits like it should! Strong hind end, big round shoulders, lots of bone and natural muscle. Looking for your next arena champ or work horse? Mr Twisty Chex will produce it!
We would like to sincerely thank Rick & Kris Schroeder of Odebolt, Iowa for the opportunity to own this great Stallion!
For more photos and/or info please click the link below: https://mile77quarterhorses.com/mr-twisty-chex
AQHA Show H&P-250+ Superiors In: Reining, Heading & Heeling ROM Performance AQHA Points in: Halter, Reining, Working cow horse, Calf roping, Heading & Heeling NRHA money earner

H-13/P-30 1250lbs

Full brother to AQHA CHAMPION MARE, MY LADY CHEX & AQHA CHAMPION Stallion, FRITZ COMMAND

AQHA Champion, Arena ROM NCHA COA, $680 LTE 100% Foundation

SIRE OF: AQHA Ch, SBF, and Arena ROM AQHA Champion (1965-Open); Performance Register of Merit (1964-Open). Earned: 7 Performance Wins; 30.0 Performance Points; 5 Halter Wins; 13.0 Halter Points; 1 Performance Register of Merit; 1 AQHA Cham

*Mare Offspring Record for Keeping Busy Top Ten World Show Offspring Superior Performance Offspring AQHA Performance Champion Offspring ROM Performance Offspring NRHA Money-earners World Show Qualifiers Halter Point Earners AQHA Offspring Record for Keeping Busy Total Points Earned: 252.5; Reg Foals: 4; Number Shown: 1; Point Earners: 1; AQHA IF: $1,545; Halter Points Earned: 2; Halter Point Earners: 1; Performance Points Earned: 250.5; Performance Point Earners: 1; Performance ROMS: 1; Superior Performance Awards: 3; Total Superior Awards: 3; Total ROM\'s: 1; -------------------------------------------------------------------------------- NRHA Offspr LTE: $29

34 AQHA Points in Cutting, NCHA LTE $573 Offspring LTE $62,911 and 682 AQHA Points

Son of Dry Doc

SIRE OF: Reg Foals: 213; Number Shown: 7; Point Earners: 5; Performance Points Earned: 47; Performance Point Earners: 9; Performance ROMS: 2 Outstanding Offspring: Fancy Blue Lady, 22.5 Perf Pts; AMT Perf ROM Fancy KC Roan Bar, 2 Perf Pts. Fancy Lee Bark, 1 Perf Pt. Miss Skipa Nick, 13 Perf Pts; O Perf ROM Roan Barbo, 8.5 Perf Pts.

Sired 104 foals,22 Shown,13 Earned AQHA H-23/P-265.5,4 ROM,ABRA H-111/P-46,IBRA H-13/P-12,NSBA $936